Sponsor a care pen to shelter needy cats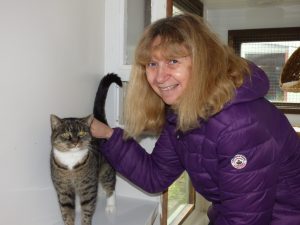 We have been running our pen sponsorship scheme since 2018 to give supporters a really tangible way to help specific cats in our care.  It's been a big success!
We ask for £30 for the year or a monthly £2.50 standing order.  Sponsors are invited to come along and meet their guests, receive a certificate and a mention in our Mewsletter.  They are also automatically enrolled as a member of Worthing Cat Welfare Trust.
We are grateful for ongoing support from our existing sponsors, but also delighted to welcome our newcomers this year: Louisa Booker, Val and Stephen Brown, Shayne and Kirsty Cuthbert, Gail Fullilove (also one of our adopters), Catharine Gleadow, Millie Roberts (also a regular, very generous donor of food supplies), Lucy Todd (our website coordinator) and Craig Lambert.  That brings our 2020 tally to fourteen current sponsorships, bringing in £420 of valuable revenue. 
There are more pens for sponsorship, so if you are interested, please do get in touch with us at [email protected]