"Adopting through Worthing Cat Welfare has been a straightforward process.
The initial home visit was organised soon after we expressed interest and the lovely lady who came was very knowledgeable and clear about the process.
After the home visit we knew that we were looking for 2 younger cats who would enjoy one another's company, matches were suggested and we were put in touch with Tracie at the cattery in Durrington. She was really lovely at every stage! We arranged a time for us to meet 2 kittens. When we arrived the beautiful mum of the kittens (Abby who we hadn't come to see) picked us! Tracie was really great about advising on combinations which would suit the cats as well as us and we have now had Abby and Kitten Cleo for a few weeks and they are definitely part of the family! Tracie has been on hand to help with any questions and made the whole process very easy.
Wouldn't hesitate to recommend this great charity."
~ C.D.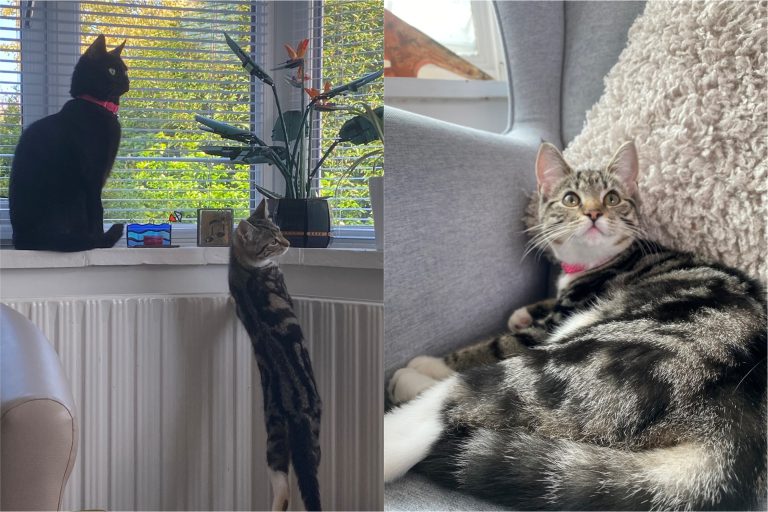 "This is our Princess Bella . We are so pleased and grateful that we found Worthing Cat Welfare Trust.
Thanks to Pam, the adoption officer, who is amazing and who guided us through the adoption of our beautiful Bella.
Our Princess is a special lady as she has a double heart condition and needs 3 medications a day. When we met her she had been nurtured back to health by Tracie (pen holder) who not only looks after cats at her home but like Pam loves them too. Princess Bella needed a special home for peace and quiet with no other animals. The vet in Worthing told us they were amazed that they had been able to nurse Bella back to health when she was so poorly. They both continue to advise me to help our Bella live as long as possible.
Bella settled in amazingly well and now rules the house and is a proper lady strutting around with no holds barred on where she can settle for a snooze. She likes attention, peace and love and that's what she has now and a beautiful life to live as long as possible.
Thank you Ana, Tracie and Pam for your tireless work for the animals and the fundraising which is so necessary for the Trust to survive."
~ Jeannie & Richard
"We're so grateful to Germaine and everyone at Worthing Cat Welfare Trust for making the adoption process so smooth and always having the cats best interest at heart.
They let us see them when they were tiny to start the bonding process and they are still in touch now, nearly a year later.
Bigsby and Chibi have changed our lives and, given these gorgeous little floofs were abandoned, we have changed theirs too. They're so happy and loving life. If you're thinking of getting a cat, I can't recommend adopting enough and I can't recommend these guys to adopt from enough either."
~ Eddy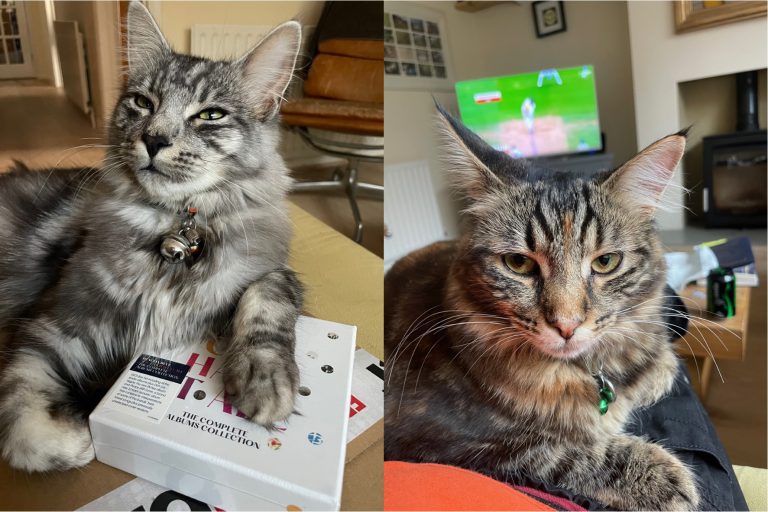 "I'd like to give a big shout out to the team at Worthing Cat Welfare Trust. I recently adopted Miss Kitty; a sweet and affectionate Siamese cross who loves nothing more than to give lots of head bonks and cuddles!
Having never adopted a stray cat before, I wasn't too sure what to expect. The care advice provided by the Trust was really helpful. It took Miss Kitty a few days to settle in, but now she's now a confident and curious little cat who loves playing with her toys (…her favourite being a feather on a stick!).
Here's a photo of Miss Kitty doing what she does best…"
~ Sarah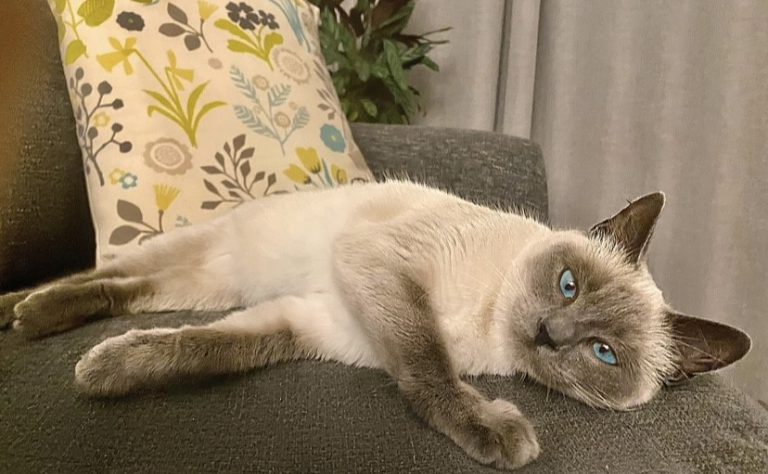 "Thank you to all the team at Worthing Cat Welfare Trust.
Denise and I have had a wonderful experience with adopting our two cats and can only say it was a great decision in choosing to welcome rescue cats into our lives.
Bugsy and Lulu, a bonded pair, were adorable when we first met them with Alison, their fosterer. Alison is friendly and supportive and has helped guide us through the adoption process. We had seen Bugsy and Lulu on the WCWT website and went to meet them, and on meeting them we knew straight away they were the ones for us. The charity was patient and helpful and even though Bugsy has had some health issues they have supported us and have kept in touch regarding his health. I would recommend the charity to anyone wanting to rehome a cat. It is the best feeling to give cats another chance at a happy life.
And what do the Bugsy and Lulu think? If a picture can paint a thousand words…."
~ Ian & Denise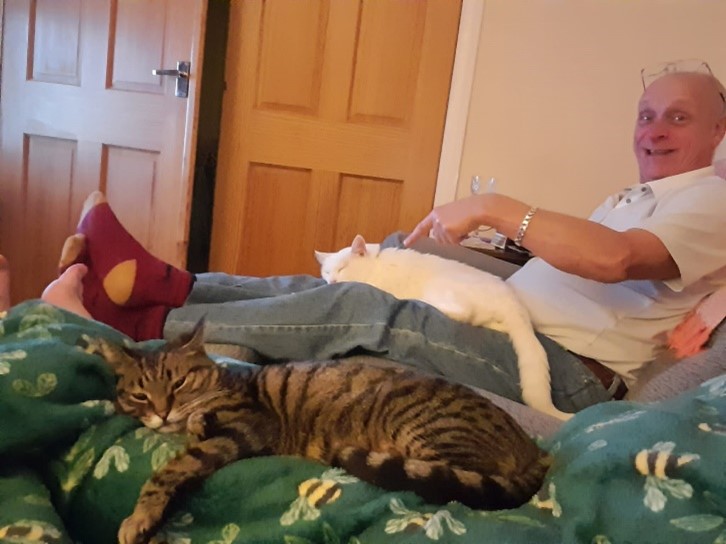 "We just wanted to say how grateful we are as a family to Worthing Cat Welfare Trust. From initial contact with Ana in adoptions – very quick warm and friendly response explaining the process.
Glen and Gill the adoption officers who took a relaxed and friendly approach during the home visits. Making sure that any necessary checks were completed to ensure that any kitten or cat would be well looked after and re-homed appropriately.
Then to meeting the kittens, Tracie (pen holder), I cannot express her kindness in accommodating our many visits to see the kittens we hoped to give a loving home to. Her helpful advice, has and continues to be amazing. We have found the whole experience exceptional, the love and care for the cats / kittens really is the most important thing to all parties involved with Worthing Cat Welfare Trust.
We are so glad we contacted the team and now have two AMAZING boys Obi and Chewie who make our home complete.
We will always be grateful and continue to recommend Worthing Cat Welfare Trust to anybody considering adopting."
~ Ali & Paul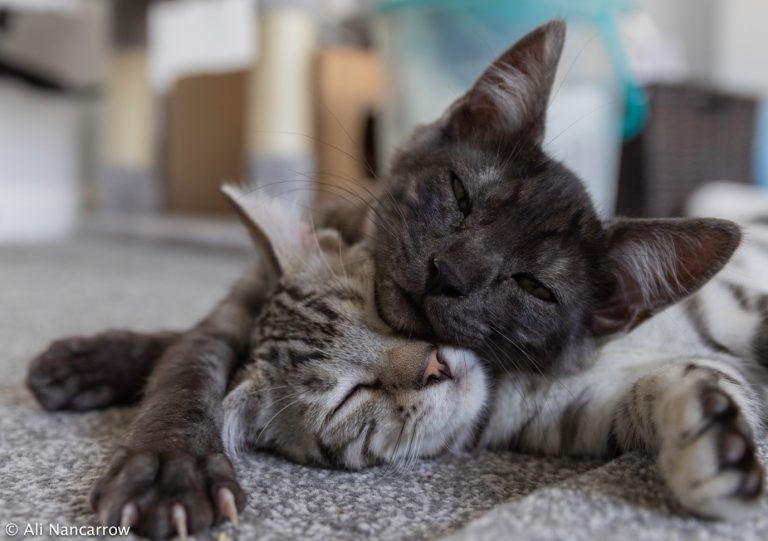 "Adopting a cat from a rescue is the best thing you'll ever do. It helps you, the cat and the rescue. The more cats they can re-home the more they can save.
I adopted Ebony in February 2023, she's small, sleek with tiny paws and mistrusting eyes. She was dumped and lived rough for 5 years, and came to WCWT estimated to be 15.
I left it to WCWT to pick the cat they thought best for me – they have tones of experience. But when I met Ebony she hid and hissed. WCWT knew we would work though and we did!
It has been lovely to see her confidence grow, she'll always be timid, who can blame her given the tough life she's had, but she asks for pets now, and we chat all the time about food. By giving her space her confidence has bloomed.
Older cats are incredible companions, with brilliant personalities they need love too. I'm glad to be part of Ebony's journey and that she feels safe again.
Thank you WCWT for introducing us!"
~ Sam
"My fiancé Ronnie and I had just bought our second home. Having both been brought up surrounded by feline friends in our family homes, we thought it was time to give two fluffy darlings a loving home of our own.
Ronnie's sister April had shared many Facebook posts from Worthing Cat Welfare Charity which encouraged us to read more about the charity and to look at cats and kittens available to adopt. This is where we fell upon our darlings Willow and Chloe. I got in contact right away to enquire about these two adorable kittens in need of adoption and lovely Ana was very quick to respond with a fast follow up house check from the wonderful Cindy. We went to meet Willow and Chloe who had been wonderfully cared for by their foster mummy – the incredible Germaine. Germaine allowed us to take Willow and Chloe home a few days later with a successful complete adoption 1 month later.
Throughout the entire process we had regular contact with Germaine to ask questions and to help with any vet queries. It was quick, smooth and we felt really supported. Willow (now Frodo) and Chloe (now Duchess) have been doing so incredibly well in their forever home – they are cuddly, adventurous, curious, (often mischievous), precious members of our family.
Thank you Worthing Cat Welfare for our sweet bundles of fluff."
~ Angeline & Ronnie